I've been wanting to try this recipe ever since I saw it on TV. When I saw that Joelen of Joelen's Culinary Adventures was having a Martini Mixer blogging adventure, I knew I had a good excuse to give this recipe a try. I may not know much about making martinis, but I love making appetizers. Plus, it was Sunday, which meant that Eric and I didn't have too much going on. We didn't need much more reason than that!
I was kind of sad that I didn't get the shape exactly right (as you can see by the pictures). Although, after reading some of the reviews, I didn't feel so bad. Some people wrote that the filling came out of the wonton wrappers, and that definitely didn't happen to me. Even though my "purses" ended up looking more like wontons, they still tasted delicious. The lemon and thyme give this dish such a fresh flavor. For the chicken, we ordered half of a rotisserie chicken from Publix and had more than enough for this recipe. We got the Mojo flavored (garlic and lime marinated) chicken. I think taste would have been seriously lacking had we just used plain chicken.
Just as a note – Eric and I had way too many left over, even after we had our fill for lunch. If you're making this dish for just a couple people, you will definitely want to scale the recipe back.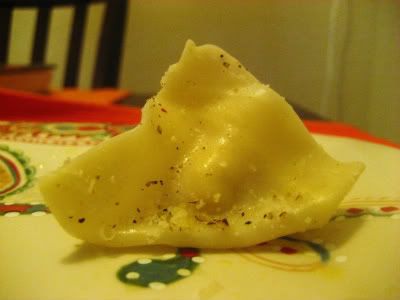 Roasted Chicken Purses
Ingredients:
1 1/4 cup shredded roasted chicken (or any leftover chicken, light and/or dark meat)
3/4 cup whole milk ricotta cheese
1/2 lemon, zested
1/2 teaspoon chopped fresh thyme leaves
1/2 teaspoon salt, plus more for sprinkling
1/4 teaspoon freshly ground black pepper, plus more for sprinkling
32 small, square wonton wrappers
1 large egg, lightly beaten
4 tablespoons butter
1/4 cup grated Parmesan
Directions:
-In a small bowl combine the chicken, ricotta cheese, lemon zest, thyme, salt, and pepper. Stir to combine.
-On a dry work surface, place 8 wonton wrappers.
-Place a rounded teaspoon of the chicken mixture in the center of each wrapper
-Using a pastry brush, brush the egg wash around the chicken mixture.
-Bring each corner of the wonton wrapper together over the filling to from a purse, and press the edges together tightly to form a seal.
-Dry your work area and continue making bathces of 8 with the remaining wonton wrappers.
-Meanwhile, bring a large pot of salted water to boil over high heat.
-Add the purses (we did this in batches of eight) and cook until they float to the surface, stirring occasionally, about 4 to 5 minutes.
-Drain and set aside.
-Melt butter in a medium skillet.
-Once melted, turn off the heat and add the purses, tossing gently to coat.
-Transfer to serving plate and sprinkle with grated Parmesan, salt and pepper.
-Serve immediately.
Source: Giada De Laurentiis