While unpacking recently, I came across my old recipe folder. The majority of the recipes were simple with minimal ingredients and required no kitchen skills whatsoever. Food blogging has been a great experience for me because my cooking skills have drastically improved since I first started this blog. I know I still have a long way to go, but I'm still learning and can happily look back and see how much I've grown as a home cook. Not to mention, I've gotten to know some fabulous people who have helped me along the way.
Every now and then, I'll be reposting some old recipes. There are some dishes in my blog that really don't have descriptions or pictures giving them the credit they deserve. I'll be highlighting recipes that Eric and I have made several times since I first posted them.
There was once a time that I thought it would be completely impossible for Eric and I to make any type of takeout food at home. Funny how things change! This dish is so delicious and can easily be made on a busy weeknight. The chicken is coated in an egg white batter, which gives it a crispy, but lower-on-the-guilt-scale coating and then pan-fried. The sauce is the perfect combination of sweet and heat, and the ginger gives it a very fresh flavor.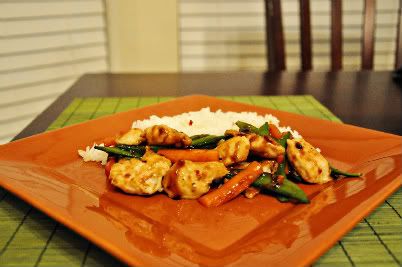 Lighter General Tso's Chicken
Ingredients:
1 1/4 cups long-grain brown rice
1/4 cup cornstarch
1 pound sugar snap peas
3-4 carrots, cut into sticks
4 garlic cloves, sliced
2 teaspoons fresh ginger, peeled and grated
3 tablespoons light-brown sugar
2 tablespoons low-sodium soy sauce
1/2 teaspoon red pepper flakes
2 large egg whites
1/2 teaspoon coarse salt
1/4 teaspoon pepper
1 pound boneless, skinless chicken breasts, cut into 1-inch pieces
2 tablespoons vegetable oil
Directions:
-Cook rice according to package directions.
-While the rice is cooking, mix together 1 tablespoon of cornstarch with 1/2 cup of cold water in a large bowl. Add the snap peas, carrots, garlic, ginger, brown sugar, soy sauce and red pepper flakes. Toss to combine and set aside.
-In another bowl, whisk together egg whites with remaining 3 tablespoons of cornstarch, salt and pepper. Add chicken and toss to coat.
-In a large, nonstick skillet, heat 1 tablespoon of oil over medium-high heat. Shake off excess egg white mixture from half of the chicken pieces and add to skillet. Cook, turning occasionally, until chicken is golden, about 6-8 minutes.
-Transfer to a paper towel lined plate and repeat with remaining oil and chicken.
-Add snap pea mixture to skillet. Cover and allow to cook for 5 minutes, until carrots and snap peas are crisp-tender and sauce has thickened. Return chicken to skillet and toss to coat.
-Serve with rice.
Serves 4
Source: Adapted from Everyday Food, October 2008. Seen on Proceed with Caution.